Death, taxes and Auburn having a 1,000-yard rusher. Under Gus Malzahn, the Auburn offense has been known for one thing: running the football. The streak, the longest in the SEC, began in 2009 with 1,362 yards on the ground from Ben Tate.
Despite the Tigers' reputation for churning out productive rushers, the nine-year streak ended in 2018 as the team's leading rusher, JaTarvious Whitlow, ended the season with 787 yards on 150 carries. 
With Malzahn returning to his play-calling duties in 2019, the program hopes to return to form. With a few fresh faces in the backfield and another year of experience for returning veterans blocking up front, the Tigers' core of running backs should be able to impress.
The redshirt sophomore was Auburn's leading rusher in 2018 and with another year under his belt, the Lafayette native should break out from an already solid freshman campaign. 
Whitlow only managed six touchdowns on the ground in 2018 and despite playing in all 13 of the Tigers games last year, a nagging shoulder injury hindered his power and availability. Despite the injury, Whitlow averaged an impressive 5.2 yards per carry and showed that he is more than capable of being a premier back in Malzahn's run-heavy system.
At 6-foot, 210 pounds, Whitlow has excellent size to be a three-down back in the grueling SEC. Whitlow also led all Auburn running backs in receiving yards (173) proving he can be a reliable weapon in the passing game as well.
Whitlow racked up 7 carries for 44 yards and one catch for 8 yards at A-Day in April and although Auburn will have a great deal of depth for 2019, expect Whitlow to be the primary bell cow of the Auburn backfield with potential to evolve into a top-tier running back in the SEC.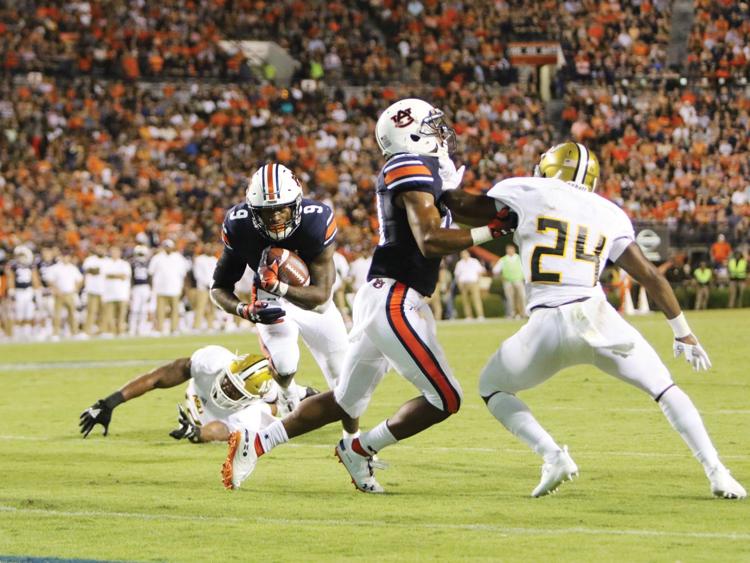 The most experienced member of the Tigers' backfield, Martin will battle Whitlow for starting carries in 2019.
Coming into last year as the perceived starter and potential breakout star, the now senior struggled to build off a strong 2017 season. Martin registered only 458 yards and one touchdown in 11 games played and saw his yards per carry dip from 6.1 in 2017 to 4.4 this past season.
The Port Arthur, Texas native has the speed and skills to be a valuable piece in the Auburn offense going forward. However, the question is, how big of a role can Martin carve out for himself within a deep and talented stable of Auburn running backs.
Being the only senior running back on the roster, Martin should provide veteran leadership and a solid option as a change-of-pace back in 2019.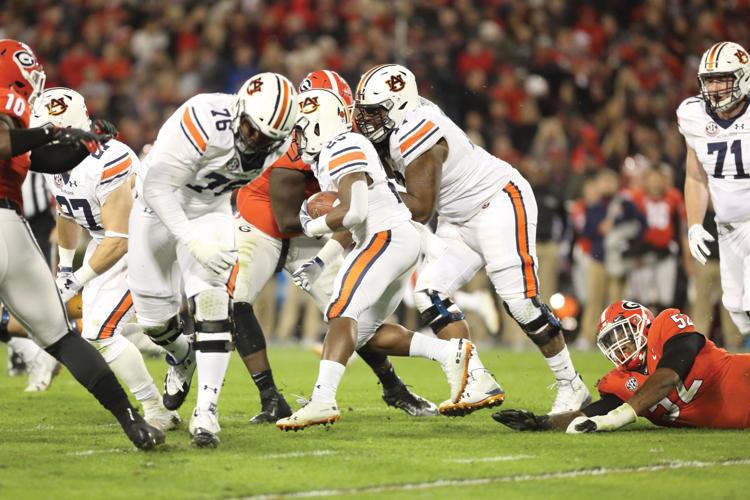 The smallest running back on Auburn's roster may also be the one that plays the hardest and with the most aggression.
At 5-foot-7 and only 179 pounds, Shivers is smaller than your prototypical running back — especially in a conference with as much talent as the SEC. Regardless, after a solid freshman campaign in 2018, Shivers immediately proved he belongs.
The sophomore played in all 13 games last year and provided a spark off the bench for the Tigers, tallying 371 yards and 3 touchdowns on only 70 carries.
The Tigers have added more pieces to the backfield since 2018, but Shivers' homerun ability every time he touches the ball is what will keep him in the running back rotation in 2019.
Shivers' low center of gravity allows him to possess surprising strength and power despite his small frame. However, where Shivers' impact will most be felt is when he uses his elite-level speed.
Shivers' is a member of the Auburn track team and one of the fastest players in all of college football. If used correctly, Shivers will be lightning in a bottle for a revitalized Auburn offense.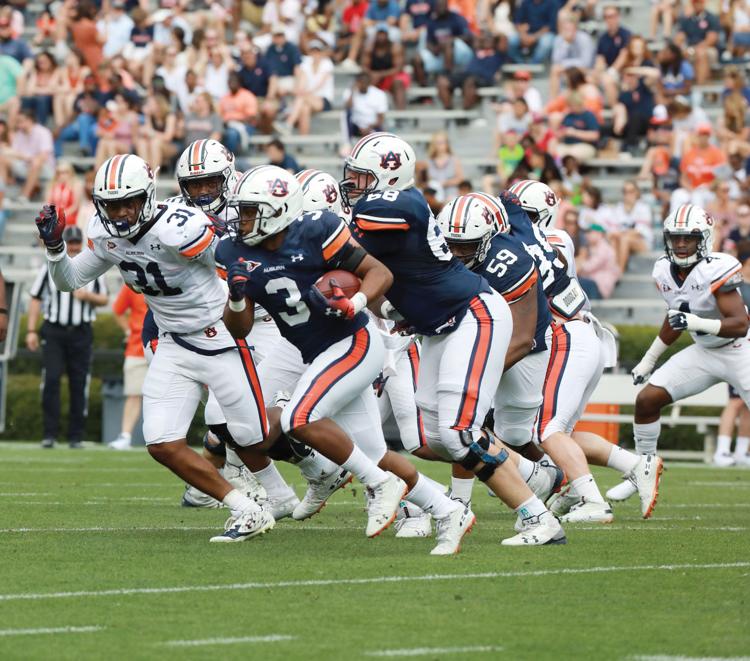 One of the biggest stars to emerge this spring, Williams is a 5-foot-10, 216-pound freshman and early enrollee on The Plains.
Previously an Appalachian State commit, Williams was a late riser in the 2019 recruiting rankings. Despite his ranking, Williams has turned heads early and often at Auburn and if not redshirted, looks to make an impact in a crowded Tiger backfield.
A tough, physical runner, Williams led all Tigers in rushing at A-Day with 11 carries for 57 yards and despite the Tigers wealth of talent in 2019, Williams projects as a possible future star in Malzahn's system.
Sparingly used in 2018 as a redshirt sophomore, Miller registered 68 yards on 19 carries and three touchdowns.
Despite his low number of carries, Miller is listed at 5-foot-11 and 235 pounds making him an ideal back for goal line and short yardage situations.
The Huntsville native struggled at A-Day, tallying 8 carries for 13 yards and 4 catches for 11 yards. 
While Miller may be effective in certain situations and packages, don't expect much more than a reserve role for the redshirt junior.
A top five running back prospect in the state of Alabama coming out of high school, 6-foot-4, 215-pound redshirt freshman Harold Joiner should see an increase in touches from his three carries last year. 
Those touches may not be in the backfield, however, as the Tigers have been lining Joiner up at a multitude of positions including the slot in order to maximize his unique skills and size.
A top-100 recruit out of Wellington, Florida, Mark-Antony Richards is expected to enroll at Auburn this summer. While Richards has excellent size and athleticism, the Tiger backfield may be too crowded for the true freshman to get enough playing time to avoid a redshirt year.
2018 was a disappointing year for the Auburn backfield. With all five starters on the offensive line returning for another year, expect to see a considerable amount of improvement from the group of backs.
The Tigers possess an incredible amount of depth at running back, but overall, that's not a bad problem to have. Under new running backs coach Cadillac Williams, don't be surprised to see Auburn once again have success on the ground.
Barring injury and assuming Whitlow is the main back, the Tigers should once again have a 1,000-yard rusher as well as several others who make a considerable impact.