Eight years ago, Auburn kicker Wes Byrum hit a 19-yard field goal as time expired to beat Oregon, giving the Tigers their first national championship since 1957.
Fast forward to 2019, and Auburn and Oregon will again line up against each other. As a part of the AdvoCare Classic, the Ducks and Tigers will open their seasons against each other in Dallas on Aug. 31.
After slightly struggling in recent years, the Ducks again look like a force to be reckoned with in the Pac-12. In 2018, Oregon and first-year head coach Mario Cristobal went a respectable 9-4 and 5-4 in conference play, ending the season with a 7-6 Redbox Bowl win over Michigan State.
Like Auburn, the Ducks have some key losses from last year's team but as a whole return a great deal of talent — they are projected to be both a Pac-12 and national contender.
Oregon has been known for their high-scoring offenses for at least the past decade, and the 2019 team is no different.
The 2018 Ducks were ranked as the No. 25 scoring offense in the country with an impressive 34.8 points per contest.
That explosive offense will likely remain just as, if not more, explosive with the return of star quarterback Justin Herbert. Herbert, a 6-foot-6, 233-pound senior would have likely been a first-round draft pick in this past NFL draft after putting up over 3200 total yards and 31 touchdowns in his junior season.
Instead, Herbert, a 2018 first team All-Pac-12 selection according to Phil Steele and early contender for the 2019 Heisman trophy award, will continue to carry the Oregon offense to new heights with his size, strong arm and athleticism.
The Ducks lost their No. 1 receiver from last year in Dillon Mitchell (1,184 yards and 10 TDs),who left for the NFL.
The rest of the Oregon receiver corps isn't quite as special. The Ducks lacked a solid No. 2 wideout next to Mitchell last year, and although the current group is talented they are largely unproven.
Junior Jaylon Redd (488 yards and 5 TDs) is the team's leading returning receiver. Redd is a fast and physical receiver in the slot but at 5-foot-8 and 185 pounds, he may not be big enough to be the Ducks go-to wideout in 2019.
Along with Redd, Oregon has enlisted the services of Penn State transfer Juwan Johnson, who, after combining for 1,053 yards the past two seasons as a Nittany Lion, has a chance to be Oregon's No. 1 receiving option.
Unlike Redd, Johnson stands at an impressive 6-foot-4 and 230 pounds and as someone who has played 16 more games than the Ducks' next most veteran receiver, Johnson could be a dangerous, experienced weapon in the passing game.
Oregon also features a duo of experienced tight ends in junior Cam McCormick (6-foot-5, 259 pounds) and senior Jacob Breeland (6-foot-5, 248 pounds), who could create further mismatches with their size and athleticism.
As a whole, the Ducks struggled with dropped passes in the past (52 drops in 2018), so that will definitely be something to look out for
In the running game, the Ducks have a stable of young talent led by sophomore C.J. Verdell, who exploded onto the scene in 2018 with 1,018 rushing yards and 10 TDs to go along with 315 receiving yards and two TDs.
Verdell was also the only player in the Football Bowl Subdivision to rush for 1000-plus yards and have at least 300 receiving yards in 2018. While Verdell is only 5-foot-9, he possesses a strong 209-pound frame and a low center of gravity, making him hard to stop.
Behind Verdell, Oregon has one of the better back-up running backs in the nation in sophomore Travis Dye, a fast and agile back who rushed for 739 yards on only 140 carries (5.3 ypc) to go along with four TDs.
Protecting  the backfield is a veteran offensive line spearheaded by 6-foot-5, 297-pound senior RT Calvin Throckmorton and 6-foot-4, 317-pound senior LG Shane Lemieux.
Throckmorton was named a 2018 Football Writers Association of America second team All-American and Lemieux to the second team All-Pac-12 team. In addition to Throckmorton and Lemieux, the Ducks have two other seniors projected as starters on the offensive line.
With three offensive linemen having over 37 career starts, Herbert and Verdell will be well protected against even the best defensive lines.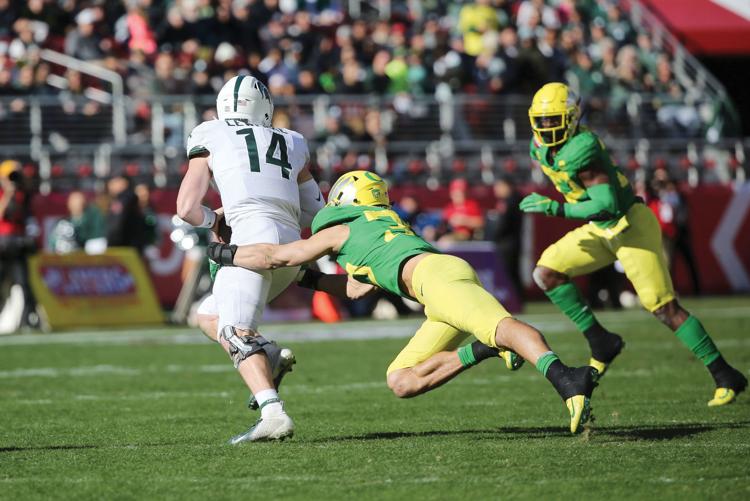 The Ducks were pretty middle-of-the-road in terms of defense last year. First-year defensive coordinator Andy Avalos will have his hands full due to the Ducks losing four defensive starters, including star DE Jalen Jelks and LB Justin Hollins.
Regardless, Oregon still has more talent defensively than most and under a new DC, perhaps they can take the next step.
Avalos' defense will be centered around senior LB Troy Dye, who is likely the Ducks' best player not named Justin Herbert. Dye is a long and athletic linebacker (6-foot-4, 224 pounds) who has led the Ducks in tackles each of the last three seasons.
Dye was named to the All-Pac-12 second team in 2018 and has been named to the LOTT Impact Trophy watchlist for the upcoming season.
With the loss of Jelks, the Ducks' defensive line definitely isn't among their strongest units. However, senior defensive end Gus Cumberlander is a veteran pass rusher who recorded four sacks in 2018. At 6-foot-7 and 254 pounds, he has the size to compete with anyone.
The biggest wildcard in the mix is true freshman DE Kayvon Thibeaux. Thibeaux, who was the top recruit in the nation according to ESPN. Although it's not a guarantee that he wins the starting job, the 6-foot-5, 240-pound edge rusher recorded a sack during the Ducks' spring game, signaling a strong start to his career in Eugene.
The Ducks have a strong group of defensive backs led by junior cornerback Thomas Graham Jr. (5'11", 190 pounds) and sophomore safety Jevon Holland (6'1", 192 pounds).
Graham Jr. was an AP All-Pac-12 second team selection in 2018 and ended the season with 57 tackles, 4.5 TFLs and 3 INTs.
Holland made an immediate impact for the Ducks as a true freshman, leading the team with 5 interceptions, which was also the second-highest mark for all freshmen in the FBS.
The 2019 team has yet to prove to be a major threat in the return game, as no one on the roster recorded a touchdown in the return game last year.
Last year's starting kicker, junior Adam Slack, was perfect in his extra-point attempts (36-36) but went only 6 of 10 on his field goal attempts and hit nothing past 40 yards.
Slack's troubles may open the door for highly touted kicking prospect and true freshman Camden Lewis, who was the No. 5 kicker in the class of 2019.
Oregon has top-level talent at nearly every position. Herbert is a Heisman candidate and one of the best QBs in college football. The offensive line is as talented as they are experienced, and Verdell is a versatile back that will likely tear up the Pac-12 in 2019.
The defensive backs are some of the best in the Pac-12 and expect Dye to fly all around the field in game one.
Losing some key players from last year hurts and some position groups definitely have something to prove (mainly the defensive line and wide receivers), but there is enough talent to make Auburn's season-opener one hell of a challenge.