A standing room only congregation of family, friends and parishioners filled St. Dunstan's, The Episcopal Church at Auburn University, on Sunday to say goodbye and celebrate the 20-year ministry of the Rev. John Wells Warren and his wife, Leigh.
"This has been a peaceful night and a perfect end," said Father Wells, who returned to his hometown in 1999 to lead St. Dunstan's and retired after Sunday's service.
Father Wells' roots in Auburn run deep. He moved here at age 5 when his father accepted a job at Auburn University. He smiles as he fondly remembers pedaling his bicycle around southside Auburn with a basket full of newspapers.
"On Wednesday, Thursday and Sunday, you'd have to be careful not to tip it over and crash," he said.
His delivery route, which he inherited from his older brothers, even brought him to the doorsteps of two Auburn legends — Auburn president Harry Philpott and Auburn coach Shug Jordan. 
"I didn't realize they were such big shots," he said. "Shug was always waiting there on Sunday morning. He was always so kind."
Father Wells also recalls the time when the world became clearer for him. When his first grade teacher informed his mother that he had to sit right in front of the blackboard because he was "blind as a bat," his mother took him to West Point, Georgia for an eye exam. 
Sure enough, I was just blind as a bat. I'd been riding my bike all over town with my brothers, a kind of a peloton, like in the Tour de France," said Father Wells, who added that his new glasses were delivered by mail. "I went down to the post office and got my glasses and tried them on, and we were going home, and I said, 'Look, mom! You can see the leaves on the trees, and look, the Harrises have their name on their mailbox!' And she just burst into tears thinking that I'd been riding blind all this time."
A lot of Leigh's memories were of "being barefoot in the country in Salem," but she also has ties to Lee County — her mother was born here and her grandfather served as a county commissioner and probate judge.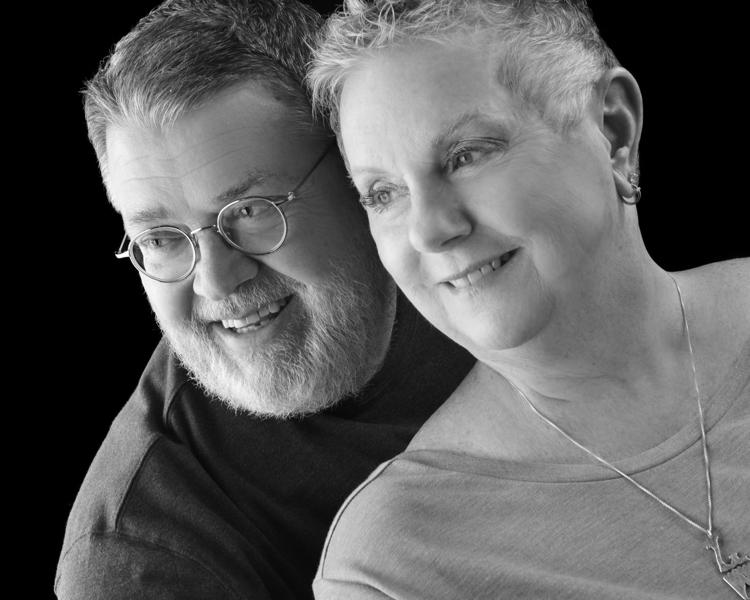 As Father Wells and Leigh share their memories, often finishing each other's sentences, it quickly becomes obvious that serving at St. Dunstan's is a team effort and that both are stepping into retirement. When asked what stands out as he reflects on his 20 years at St. Dunstan's, Father Wells brings up a photo of him and Leigh he shared with parishioners in a recent newsletter. 
"The image there is that it really has been a team effort, and boy am I grateful for that because I don't think I could have done this without you," he said, looking over at Leigh. 
Father Wells' journey in the Episcopal Church appropriately starts on his second date with Leigh when the two worked for the Department of Education in Montgomery in about 1976. He tells people that he's a "cradle Episcopalian" even though he attended Auburn United Methodist Church growing up.
"I tell people that I was kidnapped by a roving band of Methodists, raised as one of their own six biological sons and discovered my true identity at the age of 24 when I went to a wedding, of all things, asked by this little redheaded girl. She said, 'Would you like to go to a wedding?' I said, 'No!' It was our second date. But I liked her, so I finally agreed," said Father Wells. "I walked in and fell in love with everything — the architecture, the people in the pews, the priest celebrating the wedding, the bride and groom and all of the people, and the little redheaded girl. And I'm still in love with all of it the same way I was that day."
Leigh and Father Wells, who graduated from Auburn High and Auburn University, married in 1977 and later hopscotched between living in Fayette and Montgomery. 
"It's kind of like that Corleone boy who has to escape to Italy because he's murdered some mobsters, and he goes to a little town and sees this woman, and he's thunderstruck," he said.
"I get thunderstruck a good bit — church, Leigh, (their border collie) Nick, the bicycle — these things really hit me hard." 
It was during their second stint living in Fayette that Father Wells answered the call to enter the ministry. 
"It was actually a phone call," said Father Wells. "My parish priest was Bob Moore, who was the bishop who finally did call me up one day and said, 'I want you to be a priest.' 'Yes, I will. Yes, sir.' "
Father Wells read for Holy Orders and was ordained deacon and priest in 1996. He then convinced Bishop Henry Parsley to allow him to pursue a doctoral degree at St. Luke's School of Sewanee: The University of the South.
"He grudgingly said yes, and it turned out to be just a terrific experience. I absolutely loved it," he said. 
For several years, Father Wells was a bi-vocational priest, serving as the vicar of St. Michael's in Fayette and the president of Fayette West Alabama Bank and Trust.
His desire to return to Auburn "hit me over the head" when he and Leigh came to town as delegates for a convention. That opportunity to return arose in 1999. 
"When he asked me if he could apply for this position, he goes, 'It's a long shot. They're doing a national search. I'm probably not even going to be considered. And then Bishop Parsley called him up and said he wanted to offer him this job. And Wells was like, 'Wow.' " said Leigh. 
Before accepting the job, Father Wells insisted on bringing his daughters, Jenny and Margaret, to Auburn to get their take. 
"When we got back in our car, Jenny, our oldest daughter, said, 'Oh, dad. They really need you.' " Leigh said. 
Father Wells accepted and returned to his hometown that fall as the 10th chaplain at St. Dunstan's, which is celebrating its 100-year anniversary. They worked quickly to rehab the church and expand its reach into the community.
"It was in pitiful shape here," said Father Wells, who with Leigh helped drive off pigeons in the bell tower, clean the grounds and organize church events. 
During their 20 years at St. Dunstan's the Warrens have been a staple in downtown Auburn and have impacted the lives of Auburn University students and community members. 
"We have people that met here that Wells married, and then he's baptized their children," said Leigh, who also noted the work they have done for social justice, including supporting civil rights and creating a welcoming space for the LGBTQ community.
"What has defined our ministry is treating other people with respect, honoring people from wherever they are in your life, accepting people," Leigh said. 
The Warrens said they plan to explore national parks, birdwatch, bike and even practice tai chi in retirement.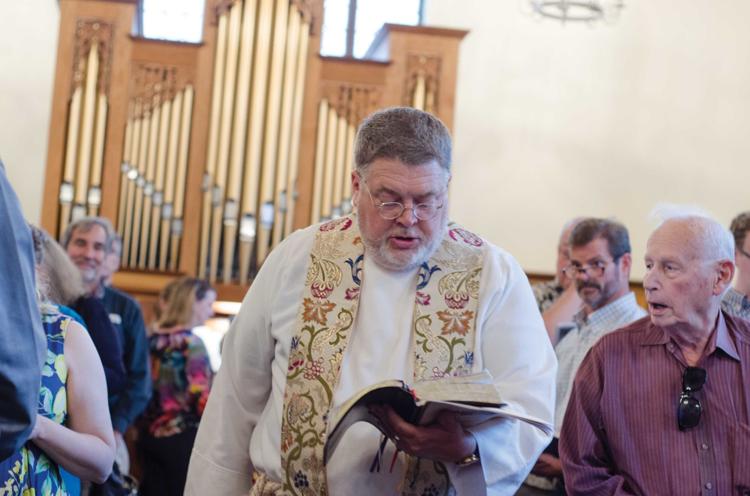 The Rev. Norbert Wilson, who Father Wells ordained in 2011, gave the sermon at Sunday's service, which focused on time, a fitting theme for the celebration of the Warrens' 20-year journey at St. Dunstan's. During the service, Warrens' impact was visible when more than a dozen people in the congregation raised their hands when asked who had been baptized by Father Wells.
"I just thank God that he brought us to Auburn because I just can't imagine retiring anywhere else," said Leigh.
"I have very much felt that I'm in exactly the right place," added Father Wells.