For more than 365 days (and counting), Kelli Thompson and others yearning for civil discourse, racial justice and reconciliation have gathered at Toomer's Corner in downtown Auburn.
For about two hours a day, in rain or shine, in sweltering heat or freezing cold, they came. On Thanksgiving, on Christmas and on random Tuesdays, they came. 
They had heartfelt, sometimes difficult conversations with members of the community, and watched as children asked their parents, "What's racism?" after noticing their signs. 
"It's something that I started a little over a year ago out of a personal need for catharsis," said Thompson, who started the Toomer's Corner Sit-In with one sign and a whole lot of determination. "I, like many others, had a lot of heavy feelings and emotions about the death of George Floyd."
The peaceful demonstration began on June 1, 2020 — a week after George Floyd was murdered by Minneapolis police officer Derek Chauvin on May 25, 2020. Floyd died after Chauvin knelt on his neck for about nine minutes after Floyd was arrested on suspicion of trying to use counterfeit money to buy cigarettes.
Floyd's death, which was caught on video, sparked worldwide protests against police brutality, police racism and lack of police accountability. Hundreds of Auburn area residents took to downtown streets to protest in solidarity.
Thompson didn't want the energy to die down. She feared that it would.
"I was tired of us coming together in outrage or in heartbreak when we have one of these stories, and then kind of getting back to our lives," Thompson said.
To keep the momentum going, Thompson decided to sit at Toomer's Corner with a sign that read "Stop Racism Now."
She didn't tell anyone what she was planning. She just went to the corner and sat down.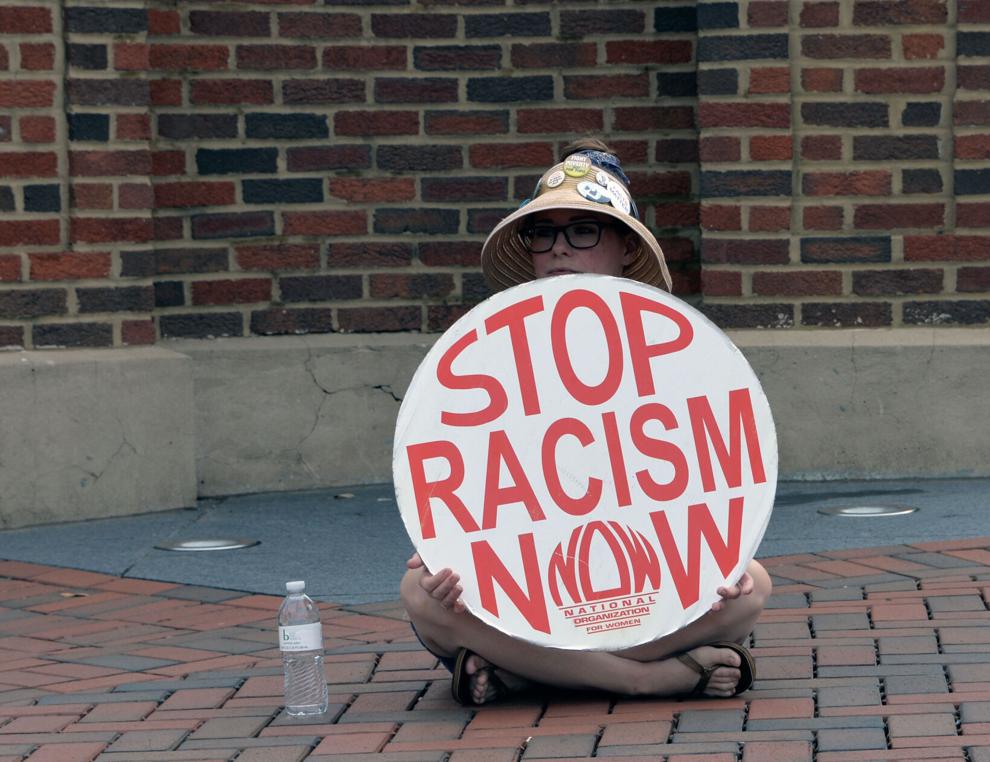 A handful of people joined her. Complete, random strangers. They sat and talked, and got things off their chest.
Thompson thought, maybe, just maybe, that was what the community needed. 
"I just kept coming back every day to see if the magic would return, if there's conversations that people still need to have, and that has been what's fueled it from then on," Thompson said. 
More than a year later, the Toomer's Corner Sit-In has evolved from just Thompson to a small group of regulars who come to the prominent intersection every day.
Damarius Nolan-Watts, one of the regulars, feels the corner is bringing the whole community together.
"We're bringing issues that plague us in the long run to the forefront, like racism and what have you," he said. "What keeps me coming to this place every day is if you don't have these conversations now, it will be our downfall in the long run."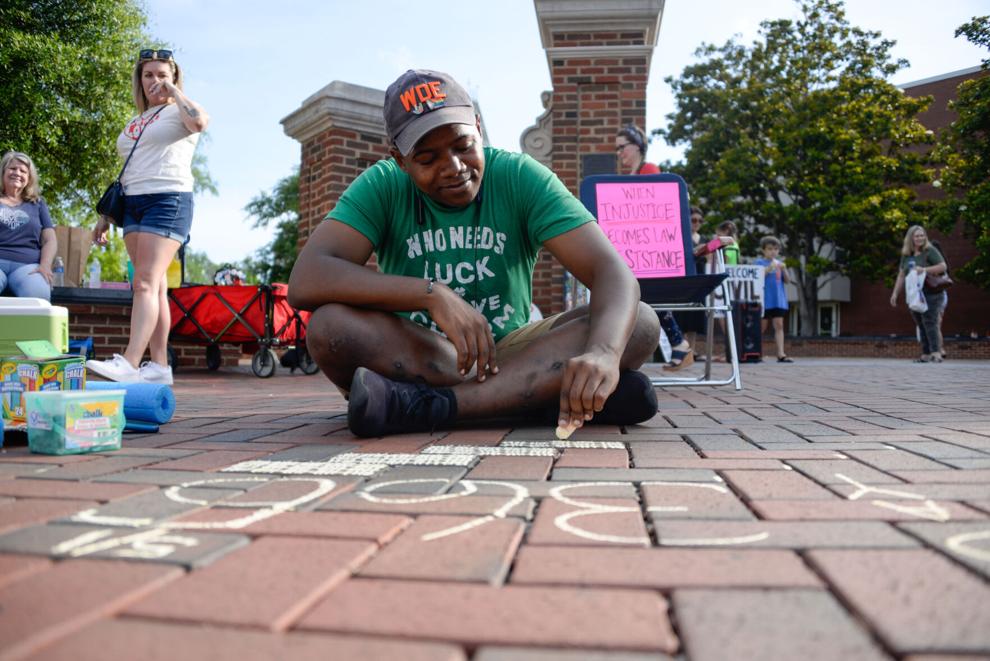 Some people consider the group to be "one of the staples of Auburn."
"They've given us lots of support and love for doing this every day," Nolan-Watts said.
Leigh Anne Armstrong, another regular, said her faith is what motivated her to participate. She said every time Jesus had an opportunity to stand with people in power or people who were oppressed, he always stood with the oppressed.
"I feel like if we're called to be (followers) of Jesus, or like Jesus, then that is where I need to find my place, too," Armstrong said.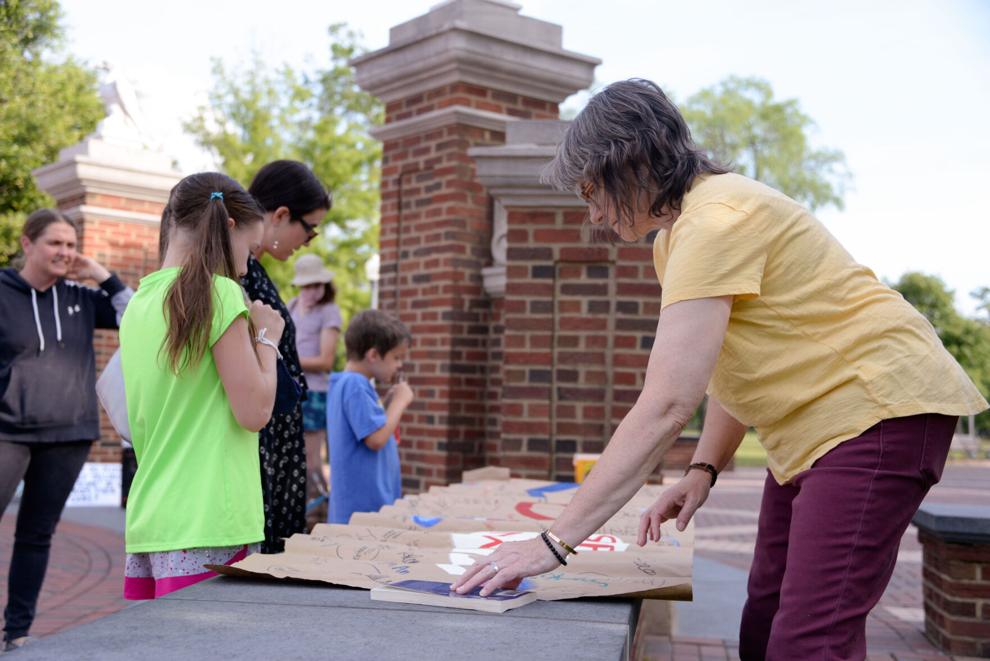 The group meets at the corner every day from 5 p.m. to 7 p.m. 
They will continue to meet for as long as they're needed. As of now, there are no signs the community wants them to stop.
"We're committed to keeping it going, and being a lot more intentional for this next phase we're thinking of as year two," said Thompson, an assistant research professor in Auburn University's Department of Psychological Sciences. 
The Sit-In is not affiliated with the university. Thompson participates in her own time. 
A researcher by trade, she has been documenting all of the positive and negative interactions the group has had with community members. The data shows positive interactions have been increasing over time while negative interactions have remained relatively stagnant.
Thompson believes one of the reasons the corner has been successful is because it gives people an opportunity to talk with people they wouldn't normally talk to, or who don't necessarily agree with them or share their opinions, in a respectful way.
"There is something incredibly actionable about being willing to sit and listen to someone who doesn't already agree with you, and to do so with love and the intention of trying to find some type of common ground," Thompson said. "That's a skill we don't frequently get to practice, and we've allowed ourselves an intentional space."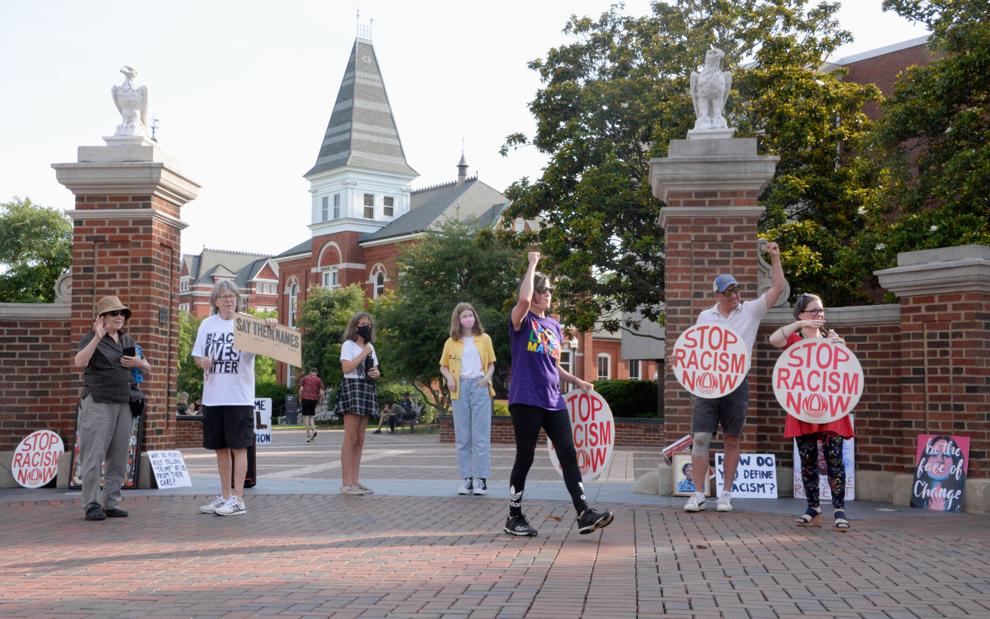 Thompson said the intent for year two is to recruit more regulars to come sit at the corner. That way more people will have the opportunity to practice civil discourse.
"If you sit just long enough, you will be changed, and you'll probably have a conversation that likely changes someone else, too," Thompson said. "That's a pretty incredible thing to accomplish right now when we're so divided."
For more information on the Toomer's Corner Sit-In visit its Instagram: @toomerssitin.