On Saturday, 20 years will have passed since 19 terrorists hijacked four planes and flew them into two towers of the World Trade Center, the Pentagon and a Pennsylvania field, killing 2,977 innocent civilians and changing the course of world history forever.
For Sunel Merchant, whose morning on Sept. 11, 2001 started like any other in the North Tower of the World Trade Center, it feels like no time has passed at all. 
"I still feel as if it happened yesterday," said Merchant, who still takes antidepressant pills. "I still get the nightmares. For me, 9/11, it's not been 20 years. It's every day in my mind."
Merchant worked as a computer consultant for a Japanese bank and went into the office as usual on the 49th floor of the North Tower on that fateful Tuesday morning. Merchant recalls remarking to a colleague that he saw a plane flying really low, but not thinking much of it before the unthinkable happened. 
"I was still standing, and all of the sudden the building started to move forward. It felt like I was on a walking escalator," said Merchant when he recalled the day in an interview with the Villager in 2014. "For a moment I thought I would hold on to the desk or my chair, and suddenly I realized that everything was moving with me. And the thought was that if it doesn't stop it can go all the way down. 
"That was one of the most hopeless moments, a moment where I totally felt helpless."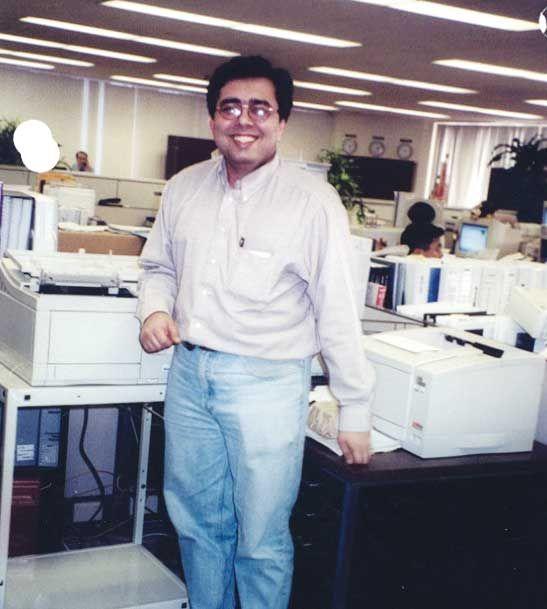 Merchant doesn't recall a loud boom or explosion from when American Airlines Flight 11 struck the North Tower, instantly killing all 87 people on board and hundreds more between floors 93 and 99, and trapping more than 1,300 people above.
He does remember the sense of confusion that fell over him until a woman yelled that a bomb had gone off and it was time to evacuate.
"That's all we were waiting for — somebody to tell us to panic," he said. 
Their evacuation down the center stairwell was orderly and everyone was relatively calm until Flight 175 slammed into the South Tower, rocking the North Tower, causing its lights to flicker and prompting fear and panic in those evacuating to the street. 
In the rush down the center stairwell that followed, Merchant came across his first firefighter, on about the 25th floor, who was rushing toward the danger. Another firefighter at the exit steered Merchant and others away from what would have been an easy route of escape. Only later did Merchant come to realize what the noises he heard coming from that direction were. 
"Later on, I came to know that the noises I heard were of the people who were falling down," he said. "So again, I'm thankful to that firefighter. It was difficult for him to explain to everybody. The best rule was just to push us so we don't even see what was happening over there."
After seeing the smoking black hole in the side of the North Tower and making his way to a nearby Starbucks, the unthinkable happened again — the South Tower collapsed into cascading debris, pushing the infamous white cloud through the streets. 
"This time, we didn't wait for anybody to say 'run.' We just started running, and because of that we were able to outrun the cloud of dust that is so infamous now," Merchant said. 
The North Tower collapsed soon after.
Merchant stayed with the same company until 2004, but after a visit with his cousin, Rohan Por, in Birmingham in 2005, he decided to strike out on his own, moving to Auburn in 2006 and opening the Philly Connection restaurant on South College Street. On the anniversary of 9/11 that year, Merchant's wife, Sonia, made a suggestion that he continues to follow to this day — honor the first responders. 
"She was like, 'It's good that we remember the people that were lost," he said. "We also need to honor the superheroes."
Every year since, Merchant has provided free meals on the anniversary of 9/11 and on Veterans Day and Memorial Day to first responders and members of the armed forces — his "superheroes."
When reflecting on 9/11, Merchant said he sees that firefighter on the 25th floor, the reassuring smiles and encouragement of the first responders, and the police cars and fire trucks racing toward the towers as he and others were running away. 
"At that moment, I didn't understand the gravity of it, but after a few days when I was sitting at home and watching TV, I saw that our armed forces were getting ready to take the battle to the enemy," said Merchant during an interview on Monday. "And my 5-year-old son, at that point, he came to me and he said that, 'Who do you like the best? Superman, Spider-Man, Captain America?' And I was in no mood to humor him, but I was like, 'If they were there, why didn't they come and help us?'  So sarcastically, I asked him what's so great about them. And he said that 'Don't you know, these are the people who put their lives in danger for the good people, for the citizens. They are always there helping people. They make everybody safer.' 
"And that's when it clicked to me —when I was running down the building, the firefighters were rushing up. So it's not the Spider-Man that climbs the building; it's the firemen that climb the building. When I was rushing away from the buildings, the policemen were rushing towards it. So it's not Superman who shields us; it's a policeman that shields us. And that day when I was sitting in the basement watching TV, it was not Captain America in the flesh who was taking it; it was our armed forces who were taking the battle (to the enemy). None of these three sets of people knew any of us, but they were willing to sacrifice their lives for us, and that is the most selfless act that I have ever experienced."
Merchant has honored first responders for 16 years at Philly Connection and will do so again on Saturday at his South College Street location, where he will thank them in person from 5 to 7 p.m. First responders may also stop by Philly Connection's food truck outside Jordan-Hare Stadium near Gates 5 and 6 or at any of the three stalls set up inside the stadium.
On the 20th anniversary, Merchant hopes others will reflect not only upon the tragedy, but on the positives that came after. 
"One of the biggest is superheroes and understanding the value of them in the community. Number two is being united and not to judge anybody based on any of those factors like race, religion, etc. Be more open in understanding each other. If you don't understand somebody's culture or somebody's religion, there's no harm in asking," said Merchant, a Muslim who emigrated from India. "Those two lessons are very important, no matter what the tragedy is.
"Every tragedy calls for us to get together, be united."