When younger, Brian Paolina, executive chef at Lucy's, often found himself hanging around the kitchen, picking up pointers from his mother while helping her whip up different dishes. 
That was especially true around Thanksgiving and Christmas, when the family would gather together to celebrate with the traditional fare — green bean casserole with classic mushroom sauce and fried onions, sweet potato casserole with toasted marshmallows, and your traditional ham and turkey and gravy dishes.
"I would do different dishes every year and just lend a helping hand," said Paolina, a native of Los Angeles who added that before experiencing the more traditional Thanksgiving fare he would enjoy spaghetti and meatballs during the holidays with the Italian family of his father, who passed away when he was 8 years old. "After that transition, it was more my mom's side. My mom's more American, very American.
"Every year I would try to make something different, even though I was young. I wanted to at least do one dish. Every year it would switch. But I was helping with everything, and I at least wanted to take credit for that one."
Thanksgiving meals shifted more in his direction after working in restaurants as a teenager and enrolling and later graduating from culinary school at the Arts Institute of California — Island Empire.
"At that point, it turned into showcasing what I can do. I always did everything we used to do, but a little bit different. I at least made it all from scratch," he said. "It kind of turned into they were cooking with me at their house now."
Christmas featured its own traditions for Paolina and his family — whole chicken and ham and, namely, the large Dutch apple pie his mother would bake in a large cast iron skillet. 
"She pretty much threw everything in there and made like a huge pancake," he said. "That was breakfast for the morning while we were opening presents."
While Paolina said becoming the go-to chef for family meals was one highlight of graduating from culinary school, it also opened doors for him to hone his craft. 
After graduating, he was one of two chefs that landed at PGA West, where he started to apply what he'd learned.
"When you get out of culinary school, you don't know anything," he said. "You think you're a chef and all, but you don't know anything until you work in the industry and actually are in the kitchen because hands-on is great, but actually doing it, for me, was great."
Paolina worked at PGA West until he was about 22 or 23, before he scratched his itch to travel and accepted a position as chef de partie under executive chef Fernando Cruz at 1 Hotel South Beach in Miami, which Paolina helped open in 2015. 
"He's a really great chef and friend of mine now," he said. "The kitchens weren't even built yet — hard hats in garage, ground up. That's where I learned a lot. 
"It was more what to do physically to open a restaurant there."
Paolina also picked up different approaches to food, including working more with fish and fresh seafood.
"The food was so different in Miami. It's Cuban, it's sandwiches, it's completely different tacos than I'm used to, not Mexican tacos," he said. "That was a big helping hand with what I do here at Lucy's, for sure."
After two years at 1 Hotel, Paolina headed back west to accept the position of executive sous chef at Hilton Sedona at Bell Rock in Arizona, where he oversaw the other chefs on staff. 
"I really learned a lot of my management style there," he said. "It was Tex-Mex and Southwest flavors, and that was where I liked being. I love peppers and black beans and corn and all that. It was really what I got into."
After working there for two years, fate would send Paolina back east to help open another restaurant — Lucy's in Auburn. 
Cruz, his mentor in Miami, once held the executive chef position at the Hotel at Auburn University, where he got to know Hans and Lisa van der Reijden. Hans serves as the managing director of the hotel, while Lisa is a co-owner of Lucy's along with Austin Singleton. 
Hans and Lisa asked Cruz whether he knew any chefs he could recommend for the new restaurant, and he pointed them in Paolina's direction. After doing a tasting in Hans and Lisa's home, Paolina took the job as executive chef at Lucy's on the spot in early 2018.
"I took the job right then and there," he said. "About a month later, I got the dog and flew out."
Paolina has blended his experiences to offer seasonal menus of American cuisine at Lucy's that feature some of that same creativity he flashed as a youngster around the family kitchen. 
"It's a little neighborhood eatery, simple approachable food all from the local community," he said. "We chose American cuisine because you can really do anything. It varies. We're not stuck into anything. I feel like we can be really creative, have fun, and I love showing out my food. I love doing big tomahawks and pulled chickens, just stuff you can share with your family at the table.
"The menu was really built off of fun and gathering and family and friends and really just buying local."
Paolina decided to share a recipe off the fall menu — a grilled Berkshire pork chop prepared for 24 hours in a bourbon apple brine, topped with apple ginger chutney and set on top of sweet potato puree and accompanied by fried Brussel sprouts.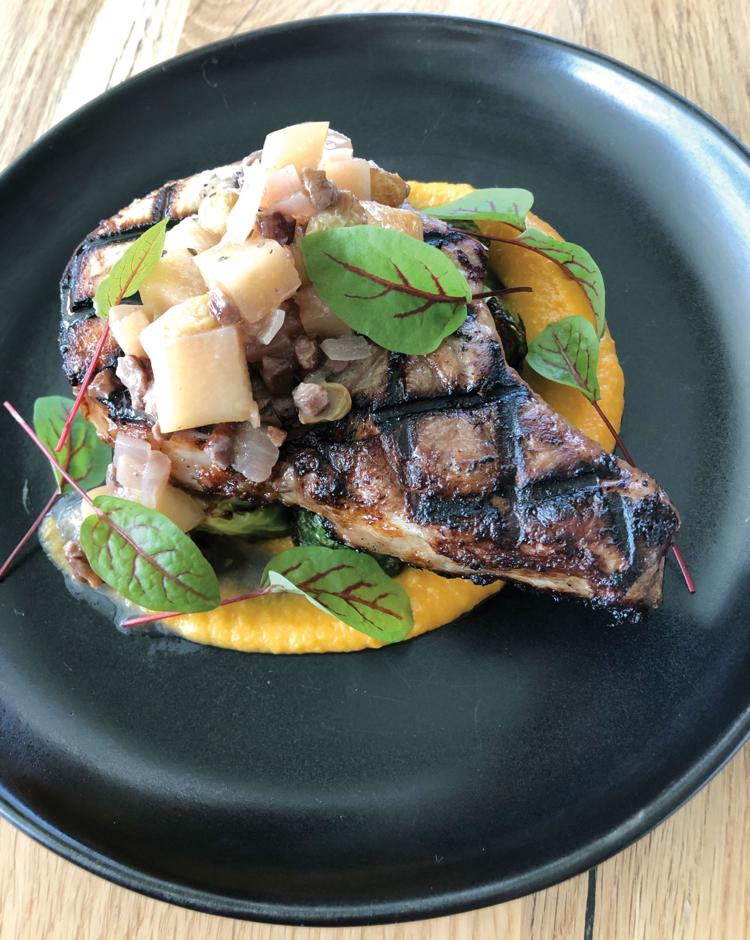 "It took a lot of work and trial and error, but we really love how the dish came out. It's really simple, but it's really fall," he said. "We sous vide it, so it's really moist, and then we just grill it to order and it comes out this beautiful medium pink color. It's just a gorgeous fall dish. It's really good. We kind of elevated each part of it, but it's something you can do at your house."
For those wanting to drop by and check out Paolina's creations, Lucy's is open Tuesdays through Thursdays for dinner from 5 to 9 p.m.; for lunch on Fridays from 11 a.m. to 2 p.m.; for dinner on Fridays and Saturdays from 5 to 10 p.m.; and for brunch from 10 a.m. to 2 p.m. on Saturdays and Sundays.
"This town is becoming such a foodie area, which is awesome," he said.