At 6 months old, Lily is like most Auburn children. Her mother totes her around town in a stroller, fixes her hair with a bow, dresses her in fresh diapers and tucks her in goodnight. She likes to play with her shiny toys, and her favorite food is the green pea.
One thing that separates her from her peers, though, is that at such a young age, Lily has already discovered her life's calling. Oh, and she is covered head to webbed feet in feathers.
Lily is a white-crested duck that, because of her sweet demeanor, recently began working as a therapy animal, bringing comfort to those who need it most.
When she was a duckling, she came into the care of Auburn resident Misty Jowers and quickly imprinted upon her. Since then, she has shown Jowers nothing but affection.
"She climbs in my lap; she lets me kiss and love and pet her," Jowers said. "I noticed it right off the bat, how sweet she was, and I was like, 'I've got to do something with her,' but I needed to make sure she wasn't just sweet with me."
So Jowers started taking Lily to stores with her, and noticed how gentle she was with everyone who approached them.
"She got so much attention and she was so good. She was on her best behavior, so I took her to parks," Jowers said, adding that she found Lily was great with children, too.
Jowers, who has volunteered with special needs programs over the years, said she felt Lily would be a great fit to work with individuals who participate in such programs. Not only can Lily provide comfort, but she can relate to being different.
Her crest — the pouf of fluffy feathers atop her head — is actually the result of a mutation found in white-crested ducks.
"It's a genetic mutation, which causes the deformity where their skulls don't fuse together all the way, so the hair just grows there. Depending on where it didn't fuse, that's where they'll have hair," Jowers said.
Jowers and Lily have visited  special needs programs in Montgomery and in Auburn. The Exceptional Foundation, which is in its second year in Auburn and provides programs for adults with special needs, has hosted the pair three times so far, and Executive Director Dana Stewart said she can't wait to have them back.
"Our people and Lily just kind of connected," Stewart said. "It was kind of sweet how they accepted each other. (Misty) would get her out and our participants would pet her. Some of them who are nonverbal would just light up.
"(Misty) talks to the participants and explains Lily is different just like they are different. I think that helps our participants to see, 'OK, she's different, but she still has a purpose. We all have a purpose.' Lily's purpose is serving others."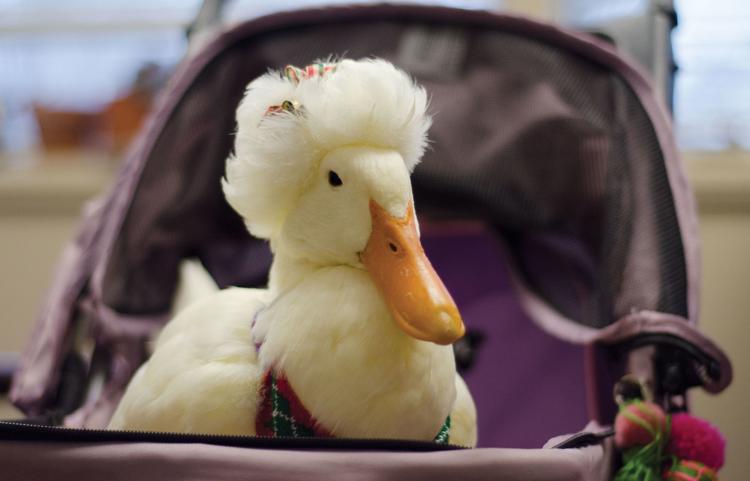 The first time Jowers took Lily to a special needs program, which happened to be in Montgomery, Lily interacted with a teenager who had a disfigured hand.
"She put her beak right in his hand," Jowers said. "She just sat there. It was like she knew. I cried. To see them light up; their smiles never left."
Knowing the effect Lily has on people, Jowers has also started taking her to visit with seniors in nursing homes, who pet her as she sits in their laps. She is currently working on setting up appointments with hospice patients so they, too, can enjoy time with Lily.
"I'm really excited about that because she — we have a ritual every night. I sit down with her, and I get in there and rub, and she goes to sleep," Jowers said. "If I don't do it, she will quack until I do it. So, I was thinking, somebody one-on-one, like a hospice patient in their bed, she could sit on their lap. It is very soothing to feel her, and she loves it."
Organizations interested in having Lily visit can reach Jowers at mistyjowers@gmail.com. Those wanting to keep up with Lily's whereabouts can find her on Instagram (@lilyleeduck) and Facebook (Lily the Duck).
Jowers said that having Lily in her life has brought a lot of attention, but she finds it's worth it when people tell them everywhere they go that she made their day. Sometimes, because Lily is so calm in her stroller, people will even ask if she is fake.
"When she rides, she's so still; she never moves, so people think she is fake," Jowers said. "I'm not crazy, I wouldn't walk around with a fake duck!"