The number of new hospitalizations of patients diagnosed with Covid-19 has ticked upward at East Alabama Medical Center over the past two weeks, as the vaccination effort has all but stalled in the state of Alabama amid the continued spread of the highly-transmissible Delta variant. 
For most of the spring and early summer, the number of daily hospitalizations at EAMC and EAMC-Lanier has stayed below 10 patients, typically ranging between four to eight. 
The past two weeks have seen hospitalizations rise and stay above 10, according to data provided by EAMC. As of Tuesday, 11 patients were hospitalized with Covid-19.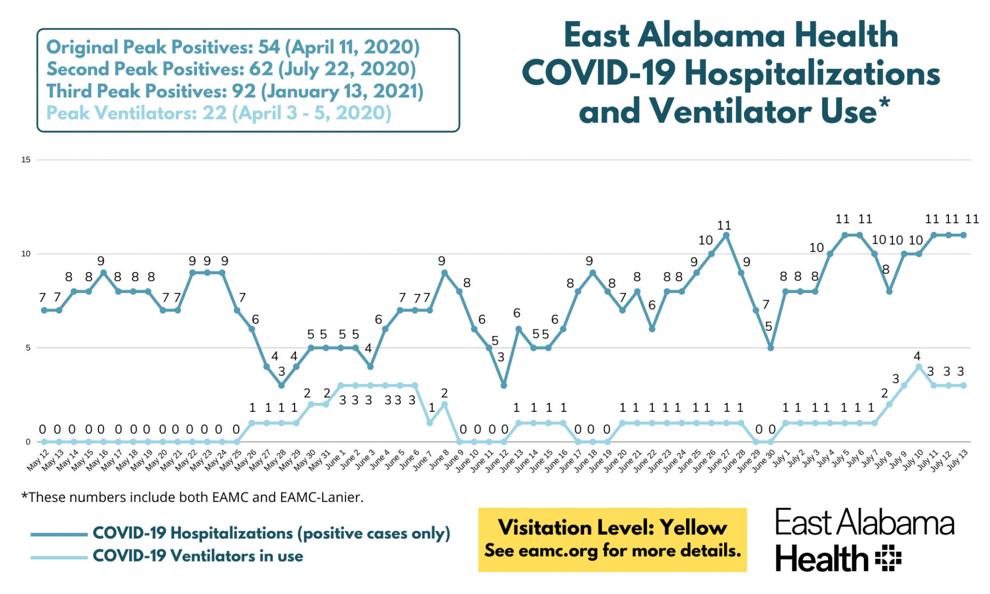 Almost all of those hospitalized have one thing in common — they have not received readily-available Covid-19 vaccines. 
"What's concerning for our area as well as the state is that more than 90 percent of the patients who are hospitalized each day have not been vaccinated," said EAMC spokesman John Atkinson. "I believe it's safe to say that Covid vaccines are the major reason society has been able to return to the level of normalcy that we all enjoy now. However, Alabama ranks last in vaccinations and that could mean bad news for state residents as the Delta variant continues to spread."
According to John Hopkins University, Alabama and Mississippi are in a battle for last in the nation in the percentage of a state's population being fully vaccinated. The two are in a virtual tie, with only 33.61 percent of Alabama's population being fully vaccinated, well behind the national average of 48.65 percent and being essentially lapped by nation-leading Vermont, which has 67.77 percent of its population vaccinated. 
Covid-19 is still enacting a heavy toll on many families served by EAMC, even as the community gets close to business as usual. 
Since April 1, 15 patients at EAMC have died due to Covid-19, bringing the pandemic total for the hospital system to  233 since March of last year. 
"Being vaccinated would likely have prevented each of these hospitalizations," said Atkinson. 
According to a news release on Tuesday by the Alabama Department of Public Health, those not fully vaccinated account for 96.2 percent of deaths from Covid-19 in the state over the past 3.5 months.  
"Covid-19 vaccines are our best defense in preventing serious disease as well as deaths, and this is especially important as the highly transmissible Delta variant spreads," State Health Officer Dr. Scott Harris said. "While it is possible to get any strain of the virus, infected people are much less likely to experience complications or hospitalizations if fully vaccinated."
The Delta variant, first identified in October in India, is quickly becoming the dominant strain of coronavirus in the U.S., a prospect that has caused concern among health experts because it appears to be more transmissible and dangerous than other strains. 
"The CDC has labeled this a 'variant of concern' because there is evidence that it is spread more easily, can cause more severe disease, including hospitalizations and death, and is associated with reduced effectiveness of available treatments and vaccines," said Marilyn Bulloch, an infectious disease expert and associate professor in Auburn University's Harrison School of Pharmacy, in a university-provided Q&A released in late June. 
According to a peer-reviewed study published in the journal Nature on July 8, one dose of the Pfizer or AstraZeneca vaccines "barely inhibited" the Delta variant in sera collected from patients, while the "administration of two doses generated a neutralizing response in 95 percent of individuals."
"The best thing people can do is to get vaccinated if they are able to," said Bulloch on how best to slow the spread of the Delta variant.