With the surge of illegal immigrants from Central America seeking entrance at the southwestern border of the United States, many questions are raised. For the husband of an Auburn alum, at least some of the answers seem obvious.
Geoffrey Haynes, husband of Jenna Haynes (Class of '07) and a missionary in Guatemala, believes the ultimate answer to the immigration crisis lies in mercy, advocacy and prayer.
From the Haynes' Casa Gloria — a home for orphans in the highlands of Alta Verapaz, Guatemala — Geoffrey and Jenna discuss their attitudes, beliefs and Auburn University values. The couple founded Mision Vida Nueva to assist children and families in Guatemala, and now they recall their first and their worst days at the mission and speculate on the causes behind the influx of Guatemalans into the United States.
On behalf of Guatemala's orphans, Geoffrey advocates for mercy.
"Extend mercy because you may not can understand someone's situation if you've never experienced it yourself," he said. "Be an advocate for people who are suffering and children who are dying, and be an instrument of service and compassion that brings human beings together in an effort to make the world a better place. Pray, for the country and its leaders, for hearts to change and corruption to stop."
Geoffrey's philosophy is based on his family's values, which he learned from his dad, Steve Haynes (Class of '80), and from his mom, Julie (Class of '84).
A line in the Auburn Creed also stands out: "Doing justly, loving mercy, and walking humbly with my God."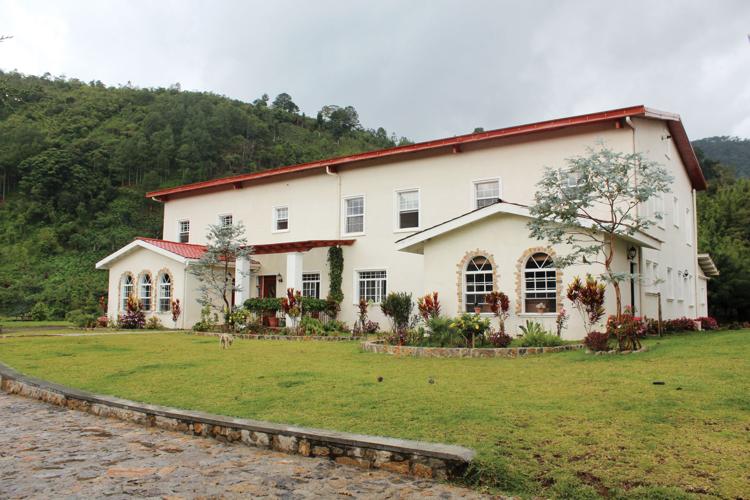 Life and Challenges at Mision Vida Nueva
The Hayneses founded the nonprofit Mision Vida Nueva in 2011. It was Jenna, who has a degree in international business from Auburn, who first felt the call to serve in Guatemala.
"The Lord called me to give my life to him in ... discipleship," she says. "I met Geoffrey along the way, and I thank God he decided to come along for the ride.
"Our organization is dedicated to healing children physically, spiritually, psychologically, and providing them with education, information and training in order to empower them to go and one day be instruments that change the world around them."
Geoffrey's parents expressed surprise and pride at their son's decision to follow Jenna to Guatemala.
"The children's home was Jenna's dream, and Geoffrey had great admiration for Jenna's willingness to give everything up and follow that dream," Julie said.
Jenna describes her and Geoffrey's first day in Guatemala as confusing and stressful. She spoke a little Spanish, but couldn't understand much, and Geoffrey, who spoke even less, tried to help with communication, she said. Then, there were the children.
It's often said that there is no worse loss than that of losing a child. Geoffrey and Jenna learned this early on, describing one of their worst days at the mission.
On this particular day, the couple heard that a 2-year-old who had left the orphanage healthy and happy was returned to a situation of starvation and extreme neglect and abuse; the child did not survive.
As time went on, the couple tentatively embraced another child, whom they ended up practically raising.
"Elena was 4 months old when she came to us," Geoffrey said. "She had a head full of black hair. She was beautiful, but no one wanted her."
Elena's mother refused to care for her, and the leaders of the village gave her to the authorities because otherwise she would have died, Geoffrey said. Elena came to Casa Gloria where she learned to sit, crawl, walk and talk. She also learned to give, love, and "throw tantrums," as most toddlers do.
"We were her family and her whole world," Geoffrey said, adding that there were many hearings, and each time her legal representatives presented the same information to the judge: "No one wants her."
"We happily took her back home in our arms each time," Geoffrey said. "Finally, the judge ordered that we publish an edict in the newspaper in one last effort to make sure that no one in the country had any information that could possibly lead to someone in her biological family who would want her."
It appeared as if there was no one in the world for Elena except the Hayneses. By that time, so strong was the bond between the child and her foster parents that Geoffrey often described her as their "beauty," their "little doll" and their "little girl."
Elena was 2 years old when the adoption branch of the Guatemalan government called to tell Geoffrey and Jenna they'd chosen a family for her. Though Guatemala is closed to foreign adoptions, by then the Hayneses had mistakenly assumed Elena would be theirs forever.
This news of a new home for Elena left them "surprised, scared, sad, excited, and nervous," Geoffrey said.
He and Jenna asked the questions any foster parents would. What if this new family isn't good? What if Elena doesn't like them? What kind of life could the parents give her? But after the couple spent a week getting to know Elena, Geoffrey's mind was at ease.
"They came to our home and spent a week getting to know Elena and doting on her," he said. "She felt like she was a true princess getting all the attention. This family was wonderful, sent by God, and it was obvious that Elena had been created for them."
Though Geoffrey's parents never had the chance to meet Elena, they have been blessed with grandchildren of their own, Mary Charis, 5, and Ariana, 7 months.
Causes of the Exodus from Guatemala 
Geoffrey has gained keen insight into the circumstances causing the dire conditions in Guatemala that lead to parents abandoning their children, as was the case with Elena. 
"Life is hard here," he said. "There is a lot of suffering and very little justice. Corruption is rampant and crime goes unpunished."
Geoffrey chooses his words carefully in speculating on the reasons for the mass exodus from Guatemala.
"It is a very dangerous country and even Guatemalans who work hard and are honest have a hard time making a living enough to provide for their families," he said. "People want better for themselves, for their families and probably mostly for their children."
Jenna believes the answer to curbing the exodus to the U.S. lies in addressing the social injustice in the country.
"Improve the justice system first and foremost, then the educational system, then the health system, then work force, and everything else," she said. "Most everything in this country needs improving and maybe then people would want to stay. But, without justice, everything fails."
Geoffrey is quick to agree.
"Those fleeing crime and violence currently know there will be no justice, so they seek to escape it. Much of the political system is corrupt as well, and they use their positions for personal gain," he said. "This country cannot improve when the government is not working for the people."
Geoffrey believes that poverty creates a cycle of poor nutrition, poor education and rampant crime in which there is no room for growth of a middle class. He stresses that if the education system could train workers who are ready to enter the middle-class sector, there would be no monetary reason for Guatemalans to leave their country.
As board members and founders of Mision Vida Nueva, Geoffrey and Jenna don't usually endorse candidates or promote policies, they said. Instead, they promote the principles of mercy and advocacy.
The couple has worked hard to achieve their original goal — more than 100 children rescued from abandonment, physical neglect and sexual abuse have come to live with them over the last two and a half years.
Today, the Hayneses outreach extends even beyond the walls of the mission and into health programs and initiatives in rural villages, such as medical clinics and educational and spiritual activities, said Jenna.
Geoffrey asks of those who want to help him and Jenna in their work, "Find ways to be present, use your skills, talent, knowledge, and get involved in an effort to help change lives. Give generously to organizations that are trustworthy."
David Story is an Auburn graduate (Class of '01) and author of "America on the Rerun: TV Shows That Never Die." He teaches adjunct at AUM.