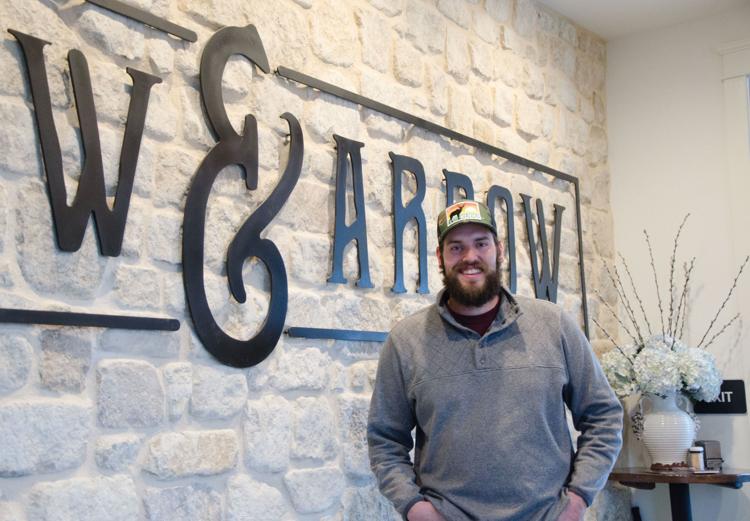 Bow & Arrow's Fischer shares savory recipe
While Caleb Fischer, executive chef and pit master at Bow & Arrow, is busy nowadays carving delectable cuts that might seem to be more traditional fare for the holiday table, like brisket and turkey, the one food that reminds him most of the holidays might come as a surprise — tamales. 
"The one thing that I can't see it until this day without thinking of Christmas growing up is tamales," he said.
He was born and raised in Smiths Station, but spent a lot of his winters and summers in Texas, where much of his family lived and where tamales are served on Christmas Eve as part of the traditional Mexican celebration of Las Posadas. 
"For the majority of Mexican culture around Christmas time, you eat tamales for holidays. Going back to the communal event idea, everybody gets around and makes tamales. It's a very family-oriented thing," said Fischer. "We would always go up to Christmas Eve service, come back home, and we'd eat tamales and open presents on Christmas Eve. That was our tradition. I never thought it was strange until we grew up a little more and started having friends over. I'd have a girlfriend spend Christmas with us, and she was like 'Where's the ham?' And we're eating tamales."
Fischer's early food experience mirrors that of many kids — sitting around the dinner table, eating food with a family on the go. His mother worked multiple jobs and his father's often took him of the country. Dinner around the table not only provided sustenance, but a chance for everybody to catch up on each other's lives. 
"Whenever we were together as a family, we were always around the dinner table, always making sure that as a family that was always on the go, go, go, that we had time to just sit down and catch up and be together and have that sense of community with each other to talk how school was, how sports were going, how my parents jobs were going, so it was always something where we were always around the dinner table," said Fischer, who added that his family was Lutheran and that there would always be potluck meals at the churches. "We're used to always having big, family communal meals with everyone in the community."
How he developed his passion for food and started cooking professionally is a "funnier story," though, as Fischer followed a high school crush to the Art Institute of Atlanta.
"The month before we were supposed to start she ended up going to SCAD, so she didn't even end up there," he said. "But that's the reason why I started cooking professionally because I chased a high school crush to art school."
Fischer lived in Auburn while he attended culinary school, working four days a week with chef John Hamme at Maestro 2300 and then crashing on friends' couches or in his Bronco in Atlanta for three days while attending classes. After graduating, he's moved between a number of jobs in the restaurant industry, picking up techniques and experience along the way at places like Epic Restaurant in Columbus and Arricia, where he served as the chef de cuisine, and for the last four-and-half years at Acre, where he also served as chef de cuisine while beginning to develop notoriety for his work. 
When he started culinary school, he focused on bakery and pastry, although he soon shifted gears and explored the hot food side of the kitchen.
"(My instructors) didn't want to nurture the idea of learning through failure, so if I asked why can't you add this, it was always because that's the recipe. That kind of frustrated me. In my opinion, that would mean everybody's biscuits taste the same way," he said. "I then explored the more hot food side because those chefs were more encouraging of just throwing something in or adding something just to see what happened. Even if you failed, you would know next time that that didn't' work."
He pursued his love of baking and pastry after graduating, though, focusing on the scientific side, "just seeing how things reacted together." Things came full circle this year, when Fischer made the finals of the "Spring Baking Championship" on the Food Network.
"I think a lot of chefs, they like hot food or they like baking, but with me I love the hot food side, I love the butchery side, I love the charcuterie side, I love the baking side. If there's a process in it, I love to learn it because it's just one of the most fascinating things to me is the science and the reasoning behind something."
Fischer is facing new challenges as the executive chef and pit master at Bow & Arrow, a family- and Texas-style smokehouse which he recently helped open with owner David Bancroft. The biggest challenge? Figuring how much meat to cook on a given day. 
"It's definitely one of the hardest things that I've ever taken on professionally from the standpoint that it's so unpredictable," he said. "You kind of have to go with it and just stand your ground and just be proud of the product you've put out and just stand with what you've got."
Fischer can definitely stand with what he's got in his pecan pie recipe, which falls less on the sweet end of the spectrum and more on the savory.
"I don't like a lot of sweet desserts, so you'll see a lot of my desserts are a little more savory in terms of lower sugar content — not savory as in meaty, but they have a little higher salt content, a little lower sugar content, so they're a little more balanced.," Fischer said. "The pecan pie for example has that lower sugar, has that higher salt, but also has vinegar in it, so it has a really well-rounded mouth feel. It really pleases all your senses." ■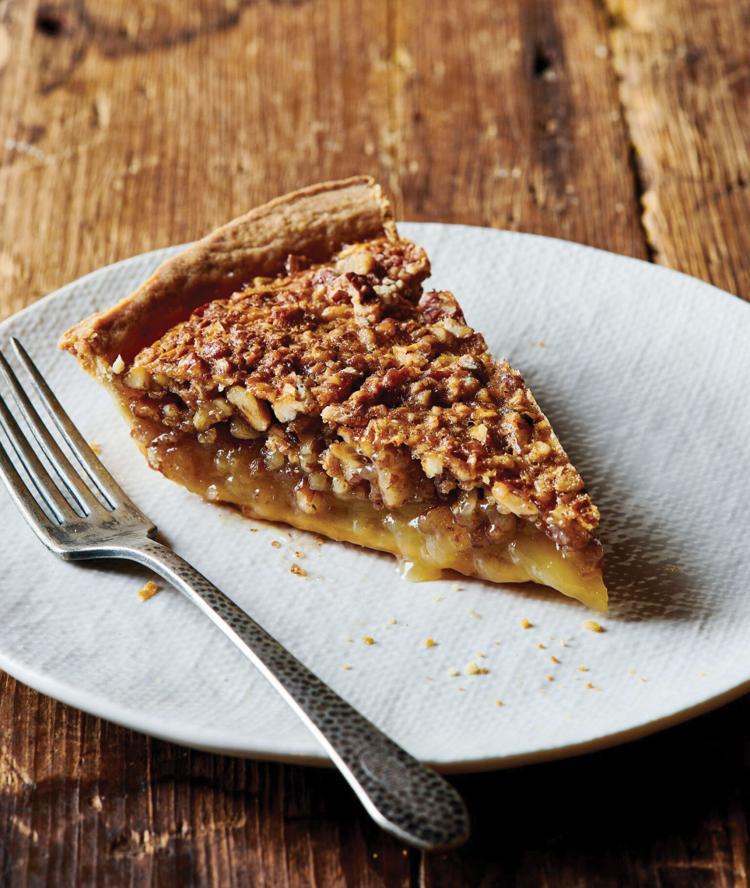 2 ½ Tbsp granulated sugar
3 cups pecan pieces, reserved
2 tsp apple cider vinegar
3 Tbsp of the family's favorite bourbon
3 cups pecan pieces, reserved
1. For the crust, combine the flour, sugar, salt and butter in the bowl of a stand mixer, and mix on low to cut the butter into the flour. 
2. In one addition, add both eggs and 4 cups of the milk to the bowl and mix until dough just forms together. If the dough seems dry, add milk, a tablespoon at a time until the dough forms a firm but moist dough. Let the dough rest in the refrigerator for a minimum of 1 hour, up to 2 days. 
3. Roll the dough on a liberally floured surface and cut to fit in your desired pie pan. Fill the crust with pecan pieces and bake in a 350-degree oven, for 5 minutes, until the crust is just set, but still soft. Remove from the oven and let rest on the counter for up to 30 minutes as you prepare the filling. 
4. For the filling, gently brown the butter in a small sauce pan until the butter solids toast and becomes fragrant, cool slightly.
5. In a large bowl, whisk together all of the other ingredients, once combined, whisk in the browned butter. 
6. Pour the filling over the parbaked pie crust to within a 1/4" of the rim. 
7. Bake at 350 in a conventional oven until souffleed and set with no jiggle remaining, about 30 minutes. 
8. Cool to room temperature before slicing, or scoop hot into a bowl and eat with Blue Bell Homemade Vanilla. Specifically Blue Bell