When Terrance Vickerstaff stands on the porch of Pebble Hill — a restored plantation home in Auburn built in 1847 — he is overcome with feeling as an endless ribbon of questions streams through his mind.
"What was daily life like?" he said, reliving the feeling of visiting the home. "What was the day like when the emancipation was read and freedom came? When I'm standing on the back porch of the house, I remember that Grandma Betsey could never enter through the front door; she had to go through the service entrance in the back. I look out into the woods behind the house, and I wonder, where was her cabin?"
Questions like these have kept Vickerstaff motivated to unearth the roots of his ancestors, who, seven generations ago, arrived in Auburn in 1836 as slaves. Some of them lived at Pebble Hill and were "belongings" of the plantation's original owners, the Scott family.
Vickerstaff, who grew up in Auburn but now lives and works in Huntsville, has researched his family history since he was an 18-year-old student tasked with a class project related to genealogy. Now, he will return to Pebble Hill to share what he has learned about his family history and, subsequently, the history of Auburn in a symposium on slavery in the city.
"The Ties that Bind: A Symposium on Slavery in Auburn" will take place on Thursday, Nov. 10 and Friday, Nov. 11. Vickerstaff and other speakers will introduce attendees to their ancestors as well as provide a genealogy workshop.
Vickerstaff said the symposium is a way to educate people about the role the black community played in Auburn's history. He talks with people frequently who do not realize how integral black families were in the city of Auburn's origin story, he said.
"It was always a little thorn in my side; nobody knows who we are in Auburn except for us and our own community, so this becomes an opportunity to tell those stories, and not just the black community, but how both communities fit together," Vickerstaff said. "You can only acknowledge history as you fit it together and you tell it from all vantage points. That's the blessing of this whole symposium."
When Vickerstaff was growing up in Auburn, he was surrounded by storytellers. The elders in his family could recount story after story, and his grandmother, Ella Bryant Vickerstaff, was among them.
"There was always one main theme — how we got here," he said. "They were these nuggets that made me want to understand more."
Annual family reunions and Christmas gatherings always consisted of the telling of these stories, from how Vickerstaff's great-great-great-great grandfather's younger brother Moses Harper crossed the Chattahoochee River in 1835 with his master, Judge Harper, to scout out the area to how his ancestors built the Ebenezar Baptist Church (now the Auburn Unitarian Universalist Fellowship) so they would have a place to worship.
"We would hear these stories and then we would pass by landmarks in Auburn as we were driving, and (Ella) would tell me, 'This is where so and so lived, and this is where so and so lived, and this is where Grandma Betsey lived — one of the slaves — and this is where we went to church, and this is where my grandparents lived on this corner right here.'
"So, all this was being put together, and I would want to know, 'OK, who am I? ... Who am I, made up of all these wonderful people that she's talking about?' "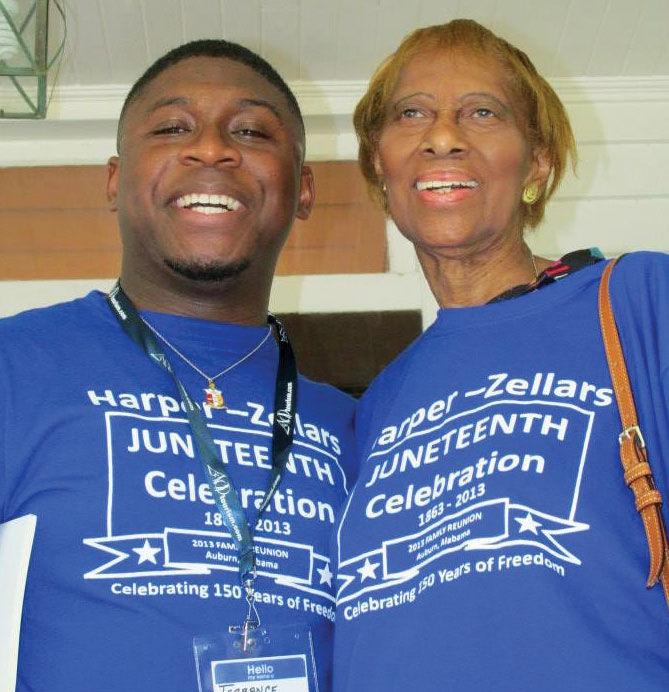 It wasn't until Vickerstaff was taught about genealogy through a college course at Alabama A&M University that he began to dig deeper. He searched for documentation to solidify his grandmother's stories, leafing through any old records he could find, from those inside local courthouses to those stowed away in relatives' attics and basements.
The moments of discovery are as tangible to Vickerstaff as the files he now keeps to document his history. He remembers the moment he found his great-great grandfather's family listed on a property appraisal for the will of a slave-owner who died.
"It's one thing to hear the ownership of your ancestors; it's another thing to see it on paper, to see names and values of people listed with hogs and wagons and horses," he said. "I remember the day I found the first one. A lump developed in my throat because it's real now."
Vickerstaff has filed away any evidence of his ancestor's lives he has been able to find. He has taken it upon himself to document everything — even the questions he asks himself because they encourage him to press on.
Every year he shares findings with his family at their annual reunion, and he helps bear the responsibility of passing on the stories to future generations.
"I wanted to make sure that not only I know where we came from, but generations after us, too. I knew that one day all these wonderful old people will be gone; now, most of them are gone that knew most of these stories," he said.
As Vickerstaff recounts what it's like to search for the traces left by long-gone relatives, he describes it as if the ancestors are speaking and guiding him, saying, "I'm over here; I'm in this stack of dusty paper!" He said that searching for your ancestors is a journey between you and them.
"Because it's them that make you up. When you find them, I just believe they smile and say, 'Hey, I'm so glad you found me, now let me tell you more about who I am, and not only can I tell you more about who I am, I can tell you a little bit more about who you are,' " he said.
Vickerstaff's storytelling Grandmother Ella died in 2005, but not before she ensured the family would have a new storyteller.
"My grandmother always told me somebody has to know the story because somebody has to be able to tell the story," Vickerstaff said. "She said, 'You've been given to us to help tell the story.' Before she died, she made me promise that I would continue to tell our story, and so every year I have to tell our story ... That's what I've been trying to do."
On Nov. 10, a genealogy workshop will be held at 1 p.m., followed by a reception and tour of Pebble Hill at 4 p.m. On Nov. 11, the symposium will be held from 8 a.m. to 1 p.m., followed by a family history fair and tours of Baptist Hill Cemetery.