Trey Johnston spreads 65 years of memories across a long table in the back of J&M Bookstore. 
There's the picture of his mom and dad, George and Dorry Ann, standing near stacks of books on opening day in 1953. And there's Auburn legend and Heisman Trophy winner Pat Sullivan posing in the store after buying his ring in the early '70s. And, sure enough, there is a picture of a live tiger that Johnston used to bring in to make the rounds at the store for patrons. 
The list of those who have graced J&M's doors over the years is long and even contains some surprises — Cy Young-award winner Orel Hershiser, longtime Dallas Cowboys executive Gil Brandt and PGA golfer Payne Stewart, to name an unexpected few.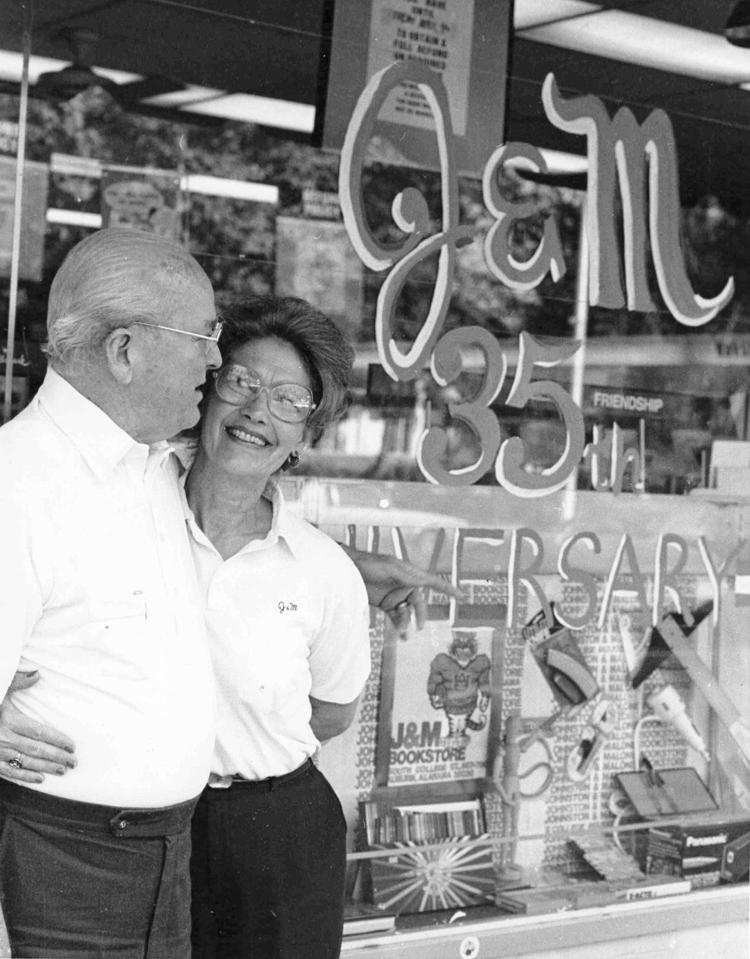 And then there are the politicians — governors and senators on the campaign trail — and, most recently, old family friend and current Alabama Gov. Kay Ivey, who dropped by last fall for a chat with Trey's brother, Skip. 
"My mother was her advisor when she was an Alpha Gam here at Auburn," said Trey. "We have known Kay Ivey since we were children, so there's a family connection there with her."
And it's the family connection that makes J&M Bookstore's 65th anniversary celebration this Saturday so special. 
Saturday marks 65 years to the day since George Johnston and bookstore magnate Paul Malone opened J&M. It had previously been Malone Bookstore, and Hawkins Bookstore before that. It was at Hawkins where George got his start in the bookstore business. When owner Jack Hawkins died, Malone moved in to purchase it in the late '40s.
"He wouldn't buy Hawkins Bookstore without this George Johnston, this G.I. Joe coming back from WWII," Trey said. "Daddy went to work then, full-time for Paul Malone, the big bookstore guy."
Trey traces J&M's lineage to Burton's Bookstore, which opened in the late 19th century. 
"We can claim going back to 1879. We stick with 1953 as Johnston and Malone," Trey said. "But those are the roots of this bookstore. It goes back a long way."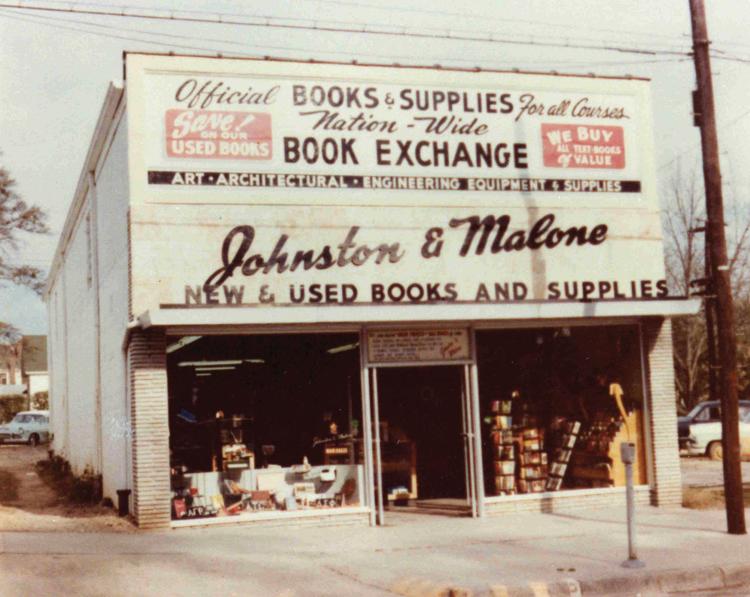 Trey's memories of J&M Bookstore go way back, too. He used to be his father's "cleanup guy" as a youth. 
"I used to sweep the floors for Daddy when I'd get off ball practice and whatnot," he said, leaning over the table in a back room he calls "the drinking room."
"I'd come in from ball practice and ride home with Daddy from Felton Little Park or wherever we were practicing ball … and about five or six o'clock when they closed up, they'd all gather back here, all the businessmen downtown, and have a drink.
"They kept some whiskey. I'll never forget walking in here and the minister from the church out back, with his collar on; he was having a shot with them before they went home."
J&M has long been not only a watering hole for locals, but an essential stop for Auburn University students who needed textbooks. 
That brick-and-mortar bookstore approach slowly crumbled with the advent of the Internet age, though, as students can easily get textbooks from Amazon or take classes online. Many other bookstores have shuttered under the pressure, but not J&M. 
"We're having to reinvent. We're adapting," Trey said. "The sales reps that come in that sell pens or notebooks or souvenirs, they'll look around and they'll go, 'Damn, Johnston. You're not closing the doors like they did in Birmingham with Snoozy's (at UAB), like they did in Athens at the Georgia Bookstore, like they did in Tuscaloosa with the store there.'
"We're still trying to continue on. It's a pretty special place."
The times have certainly changed — there are no textbooks inside the original J&M anymore; those are kept at the second location farther down South College Street. With the changing landscape, Trey has expanded the art department into the old textbook space and recently brought in The locAL Market, which his daughter, Lauren Johnston Duncan, started in late 2016 in the nearby Whatley Building, which will soon be razed and redeveloped.
Of course, J&M also still caters to fans on game days, whether it be for football, baseball or equestrian. 
"We try to have a game-day experience," Trey said. "It's very important to me that I can somehow continue this on. The first generation builds, the second generation hangs on to it; the third generation usually loses it. 
"With the change with the economy and with the business itself, it's going to be very interesting to keep the bookstore on the signage."
Trey said he plans to pass J&M on at some point, letting another generation carry the legacy and tradition forward.
"I plan on passing it off. Skipper, I've got five years on him," he said. "And my daughter Lauren and her son. I have two other children who are interested in playing a part. And they feel the same way I do — they want to see it continue on because they know what it meant to their grandfather, my father and my mother.
"We're very fortunate, and it's been a great business for my family all these years. And it's made a wonderful life for all of us to enjoy. I can't imagine doing anything else."
Auburn residents can join in on the anniversary celebration on Saturday, which will go on all day and feature "Sani-Freeze ice cream," free Toomer's coffee, a champagne toast and birthday cake at 5 p.m as well as the grand re-opening of The locAL Market. 
The first dollar bill taken in when George Johnston opened J&M on May 19, 1953 is still featured on an upstairs wall. And on Saturday, 65 years later to the day, his son, Trey, will be standing behind the counter, ready to serve.