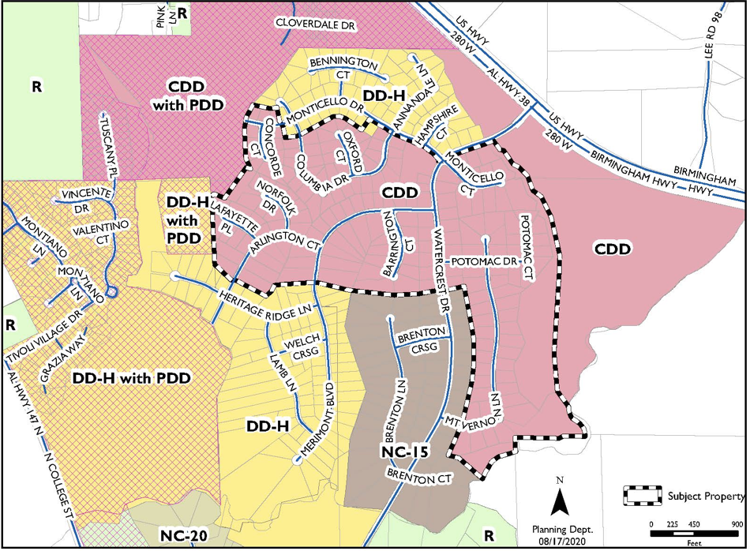 NOTICE OF PUBLIC HEARING PL-2020-00458
In accordance with Title 11-52-77 of the Alabama Code, notice is hereby given that the Planning Commission of the City of Auburn will hold a public hearing on Thursday, September 10, 2020 at 5:00 p.m., by means of the Zoom video conferencing web application, to consider the following:
AN AMENDMENT TO THE OFFICIAL ZONING MAP OF THE CITY OF AUBURN, ALABAMA TO REZONE PROPERTIES IN THE ASHETON LAKES AND CREEKWOD SUBDIVISIONS, MORE SPECIFICALLY:
ASHETON LAKES LOTS 159-164 AND LOTS 210-219
ASHETON LAKES 1ST ADDITION, PHASE 1 LOTS 165-170, LOT 172A-1, LOT 172A-2, LOTS 173-179, AND LOTS 200-209 ASHETON LAKES 1ST ADDITION, PHASE 2 LOTS 181-182 AND LOTS 185-199
ASHETON LAKES 2ND ADDITION LOTS 220-236, LOTS 244-255, LOT 256-A, AND LOTS 257-273
ASHETON LAKES 3RD ADDITION LOTS 300-305
ASHETON LAKES 4TH ADDITION LOTS 306 AND LOTS 308-310
ASHETON LAKES 5TH ADDITION LOTS 274-284
ASHETON LAKES 6TH ADDITION LOTS 285-287
ASHETON LAKES 7TH ADDITION LOTS 311-346 AND LOT 347-A
ASHETON LAKES 8TH ADDITION, PHASE 2 LOTS 357-369
ASHETON LAKES 9TH ADDITION LOT 431
ASHETON LAKES PHASE 3C LOTS 89-94
CREEKWOOD LOT 9AA
FROM COMPREHENSIVE DEVELOPMENT DISTRICT (CDD) TO DEVELOPMENT DISTRICT HOUSING (DD-H).
The official zoning map, an element of the zoning ordinance of the City of Auburn, is amended to place the Development District Housing (DD-H) over properties shown in the highlighted area depicted below.
All persons who desire shall have an opportunity of being heard in opposition to or in favor of such ordinance.
The Villager August 20, 2020